On-the-go organization
Let's face it, keeping our families clean and organized can be a lot of work. Between juggling the busy schedules of kids, work commitments, and spending quality time with family and friends, you're left with little time (let alone energy) for cleaning and organizing. It's easy to adopt an "embrace the mess" mantra when at home, but take that on-the-go, and it can most certainly add an extra layer of stress. With kids in tow, especially really little ones, spending a lot of time in the car to run errands, go on road trips, or travel in general can send any parent into a panic. You wonder if you're equipped to handle a potty accident, soiled clothing and literal spilt milk. But all hope is not lost! The good news is, if you plan ahead and bring along some extra supplies, those messes and little surprises won't be so bad.
In the car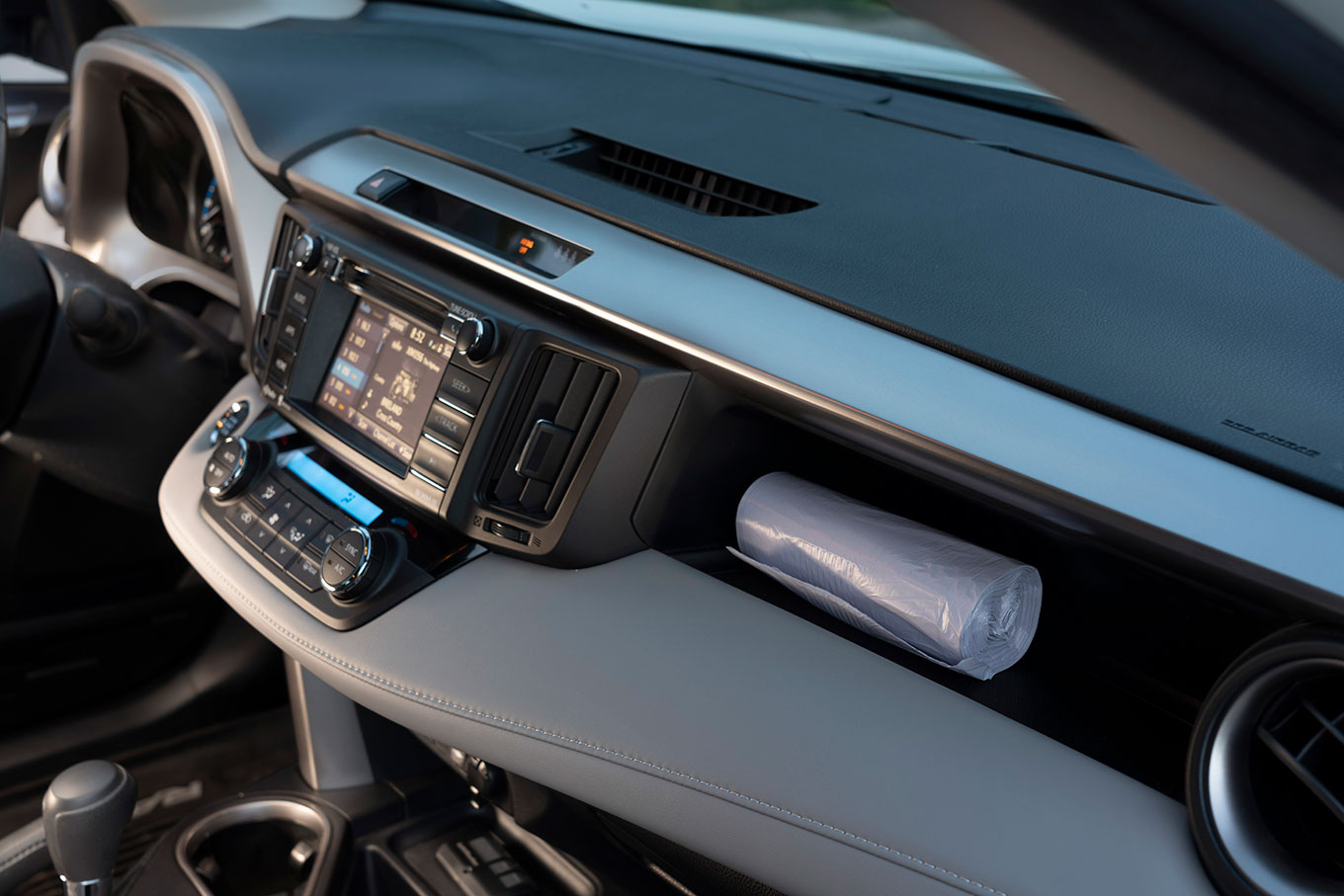 If your family spends a lot of time in the car, you know that keeping it clean and tidy can be challenging. Trash bags are your secret weapon for keeping the car clean while traveling near or far. A graveyard of cereal, cookies, and cracker crumbs may be unavoidable for your really little ones, but you can get ahead of the mess with older kids by equipping them with their own back seat trash bags. That way, they can dispose of trash as they go. A small roll of trash bags works best in the car because it can be easily stored in the glove compartment or cup holder.
A small trash bag can also save the day with a diaper blow out. If this has ever happened to you while traveling, then you know how dire that situation can get. Trust us, having a trash bag to quickly dispose of the mess is a life saver! We also recommend keeping a small roll of bags in your diaper bag so that you're prepared for accidents no matter where you are!
And finally, do not, and we cannot stress this enough, leave the house without wet wipes and paper towels (or reusable towels!) They will come in handy for cleaning hands and messes during breaks. You can also use them to clean up the inevitable spills in the car before they become a sticky situation. When ready to dispose of, toss them in your small trash bag and you can get rid of all waste in one fell swoop!
Planes, Trains and Everything In Between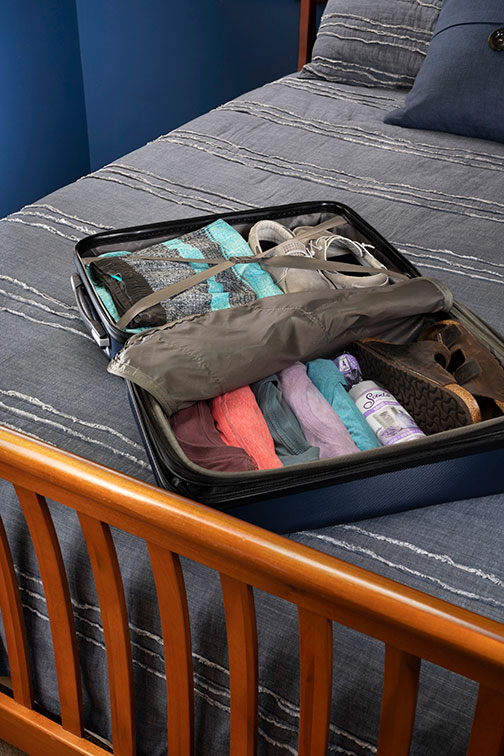 No matter if it's your first, third or fifth trip, traveling with kids can be overwhelming. From what to pack to navigating tantrums, the stress can take away from the excitement of the vacation awaiting you. Here are a few organization hacks that can help things go a little smoother and allow you to enjoy your family and your vacation.
Have a separate bag for dirty laundry
Dirty laundry adds up quickly when vacationing. At the end of the trip, there is nothing worse than having to put a mound of dirty clothes back into your suitcase. It's helpful to have a separate bag to store dirty clothes. This helps to keep your suitcase organized and ensure that clean items don't become smelly. In the event your place of lodging doesn't have a complimentary laundry bag, a trash bag will work in a pinch! We recommend packing at least an 8-gallon bag to accommodate all of your family's dirty laundry. If you checked a large bag, you may need a 13-gallon size bag to hold all of the dirty clothes, but if you just have a carry-on, an 8-gallon should do (or it's a great size for sorting out your lights, darks, and delicates before you head home).
Separate shoes from clothing
Let's face it, no matter how cute and stylish, shoes are gross! They are likely the dirtiest items that you'll have to pack. Wrapping shoes in a plastic bag can help keep other items in your suitcase clean and smelling fresh. Bonus, if the bag is scented it adds an extra boost of freshness!
Bring a stain remover pen
Doing laundry while traveling is not always feasible. However, whether you plan to do laundry or not, bring a stain remover pen to pre-treat stains as dirty clothes go in the laundry bag.
Pack wet wipes
Adding to the advice above about wet wipes, you will most certainly want to ensure you have these in tow when flying. From airports to airplanes, we're exposed to many germs because of the amount of people in a small space. Using wet wipes is a great way to combat germs and bacteria. Use before eating, before and after bathroom visits and to wipe down any hard surfaces that you'll touch during a flight.
Sometimes taking our families beyond the confines of home can be difficult. But, you can stress less with these easy tips and keep messes at bay.
Be sure to keep this list handy for future reference. Look for more hacks on cleaning and organization within the home from how to make puppy potty training easier and tips to contain messes in the nursery!