Choosing the right color + scent combinations for your home
When home décor is mentioned, most think of the physical objects like furniture or the overall color pallet that completes a space. When we think of home décor, we like to take it a step further. Have you ever thought about choosing a scent for your home? Realtors suggest baking fresh chocolate chip cookies before an open house to make your home feel warm and inviting. Used car buyers rely on new car scent to improve the marketability of their vehicles and make that sale. Our sense of smell is the strongest of our five senses and is located in the same part of our brain that affects emotion and memory. So, it's important that when choosing our décor for our homes that we include how we want our homes to smell.
There are many ways the scent can be included in your home décor. You could spend extra money on candles only for them to melt away. You can shop the myriad of overpriced scent machines for your home only to discover they don't live up to the hype (personal opinion and experience). Maybe you are ok with gaining a few extra pounds baking (& eating) the Best Chocolate Chip Cookies on a daily basis. Or, you could stay on budget, not be disappointed, and choose Color Scents trash bags the next time you need to refill your household waste bags.
Color Scents has taken the classic white trash bag and turned it into a home décor staple! We partner with best-in-class industry fragrance houses and color and trend forecasting leaders to craft the perfect balance of Color + Scent for each room where you use trash bags. Yes, each room in your home has a different end use and different waste that gets disposed of. Not only have we taken the size and strength of bag used in each room into account, we have specially chosen color and scent combinations that enhance each room and leave a décor pleasing visual and sensual impression.
In the kitchen, a crisp white trash bag is a fan favorite. We've combined this with our best-selling lavender scent with the earthly aroma of sage to help neutralize your kitchen's toughest odors. We've paired the fresh scent of simply clean with our stainless-steel complimentary silver bag for a décor pleasing, germ-free feeling. The balance of sweet orange citrus with our neutral-colored chamomile looks great in any space and leaves a sweet pleasant aroma. Finally, bring the outdoors indesi with our light blue bag in fresh air scent. A perfect combination when you'd rather be enjoying the beautiful day than stuck cleaning the kitchen.
Kitchen Color + Scent Combinations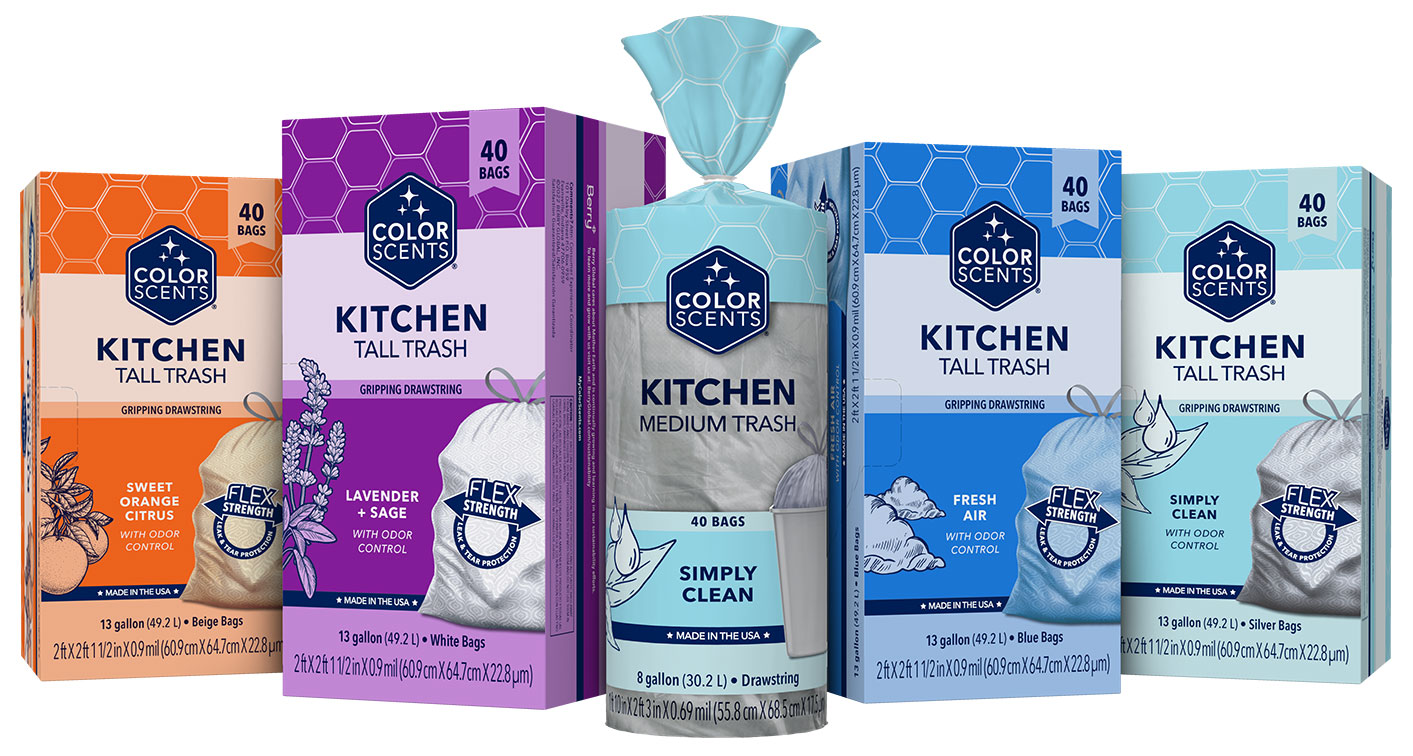 Light orange bag in Sweet Orange Citrus scent
White bag in Lavender + Sage scent
Silver bag in Simply Clean scent
Light Blue bag in Fresh Air scent
Our laundry room & office bags come in an array of stylish, pleasing scent and color combinations. Our light blue fresh air and our silver simply clean work just as well in the kitchen as the laundry room and office and are perfectly sized to fit both rooms' waste bins. We've added a touch of purple to our newest scent, lavender and sage, which adds a subtle regal touch to your office setting. Make happiness a habit with our best-selling vanilla flower in cream. Soft and creamy. A dream combination for your laundry room, office or even bedroom.
Laundry Room & Office Color + Scent Combinations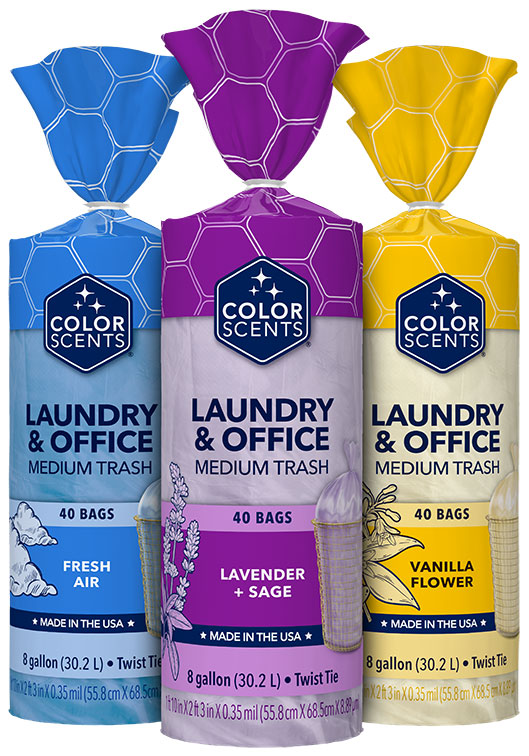 Light Blue bag in Fresh Air scent
Violet bag in Lavender + Sage scent
Cream bag in Vanilla Flower scent
Good things come in small packages and our 4-gallon trash bags are no exception. We've put together a balanced assortment of proven pairs (Lavender scented light purple bag, dusty blue bag in ocean mist, and classic silver in simply clean) with fresh new color and scent combinations that are sure to leave lasting impressions on your décor and your senses. Dusty pink in teakwood + rose is a perfect vanity complement. Pleasing to the eye and your senses. Have a spa day at home with the warmth of sandalwood and light citrus. The sage green color helps the stress melt away.
Bathroom Color + Scent Combinations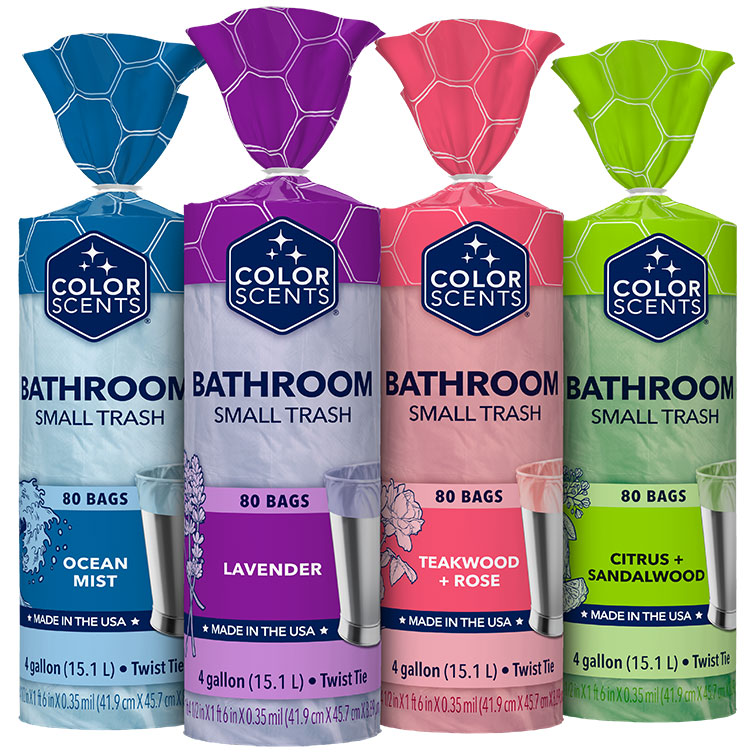 Dusty Blue bag in Ocean Mist scent
Light Purple bag in Lavender scent
Dusty Pink bag in Teakwood + Rose scent
Sage green bag in Citrus Sandalwood scent
Silver bag in Simply Clean scent
Next time you get the itch to switch things around in one of your rooms, save yourself a lot of time (and money!) by trying out a new style from Color Scents. We know it will brighten your space!